Discover more from Leo's Letter
Business analysis + curation on fintech, creator economy, and ecommerce with some introspection sprinkled in.
#14: The Journey Continues
Stumbling upon answers, using science, and being kinder to oneself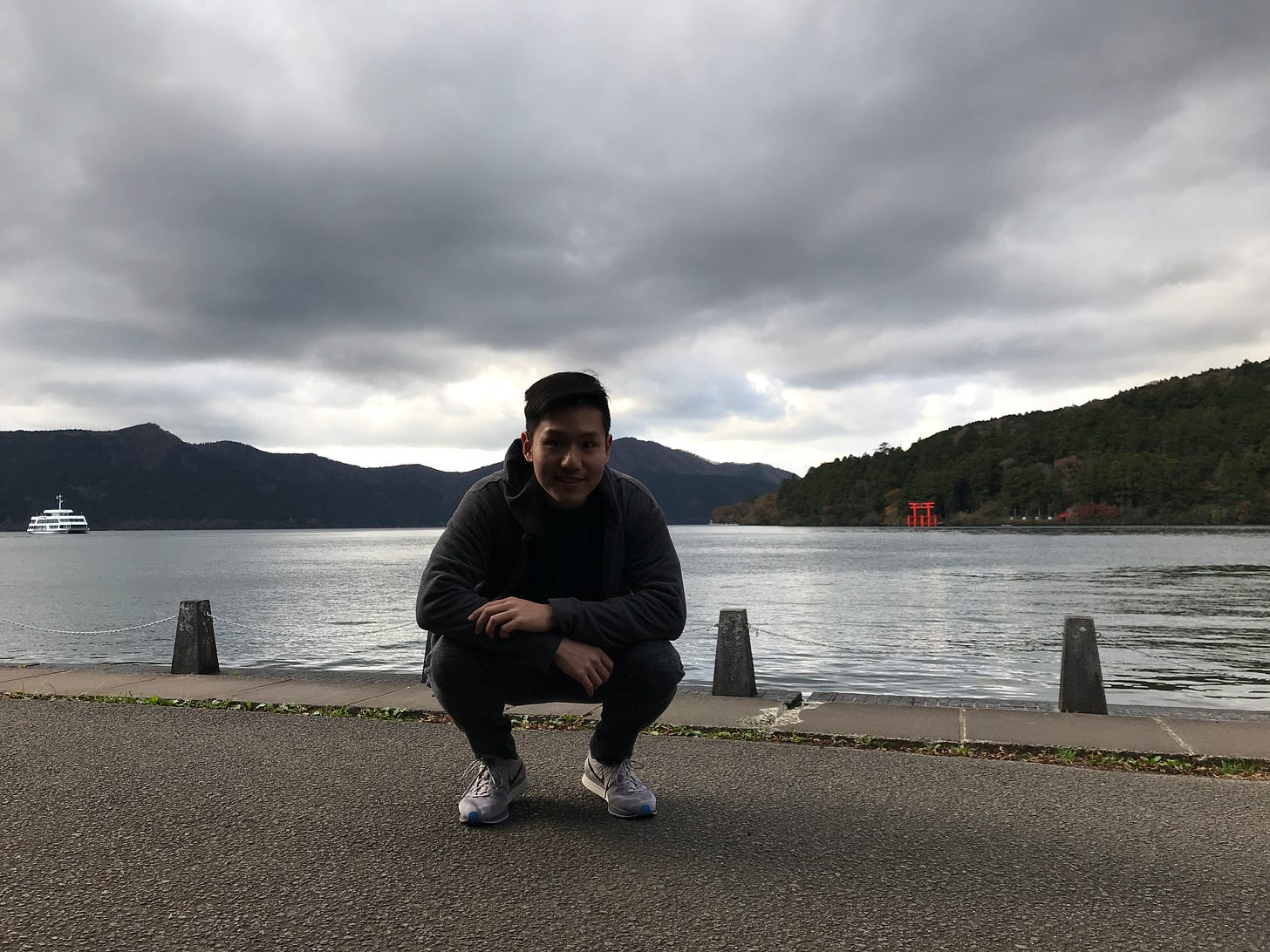 Hey there! Thanks for opening this up.
I'm back! I've actually been back for a while now, but with the pre-holiday sprint and the holiday festivities, it wasn't so easy to find the time to absorb everything from the trip.
They say that it's often strategic to "do the opposite" - I could see that during holiday party season, where staying for 20% of the time can accomplish 80% of the work in engaging with everyone at the party, thus leaving free time do more personal work. But should I then have learned to work less during busy times, so that I wouldn't have gotten a cold? Now that is a question.
Exciting times as usual, especially with the holidays approaching.
Photo: In a region near Tokyo called Hakone.
---
Essay
Not all who wander are lost
A reflection of my two-week trip to Asia, where I went to Tokyo and Chengdu for the first time, and came back to Shanghai after three years. A trip of discovery, even though I wasn't purposely looking for answers. I'll take it.
"People often travel to go find themselves, but that was not the case for me. 

Instead, it was for verification of the answers I've come across through my everyday actions in New York City: putting in the time in and outside of work in building transferable skills, exploring ideas with others through events and one-on-one conversations, and reflecting on the intake of all this information to form a coherent narrative."
Some things change and some stay the same. I have changed and so has the city of Shanghai, but the takeaways from this trip I will keep with me and that will not change.
---
Strategy
The Neuroscience of Meditation: Four Models
A detailed explanation of meditation from four different perspectives, along with the author's interpretation of tying them together.
My interpretations of the effects of meditation from the four perspectives follow:
Buddhism - the noting and knowing of experiences to "disidentify" with them
Predictive coding - the balancing of bottoms-up intake of sensory inputs over traditional top-down beliefs and mental models
Harmonic waves - influencing the brain's reception to emotions / harmonics to be more in-tune with them (this is the one I understand the least)
Neural annealing - the entrance into a high-energy, flow-like state, for the brain to repair itself
"One of Buddhism's core insights is that internal conditions generate the self, and that there are standard methods (i.e. meditative practices) to predictably change these internal conditions, which will then change what kind of (and how much) 'self' is generated."
This is a very complex piece. One commonality described is the concept of the "self", which the author describes well as a head of parliament constantly trying to bring various parts of the mind together as they naturally drift apart. This is what causes identification with emotions, experiences, and the suffering that may occur from the action.
Innovation
A peek inside Sequoia Capital's low-flying, wide-reaching scout program
An overview of venture capital firm Sequoia's scout program, where the VC firm gives a class of scouts $100,000 each to invest in companies on behalf of the firm. This disciplined process requires Sequoia to sign off on the scout's investment memo and has generated great investments, including in Uber and Stripe.
"They know If you're smart, your friends are probably pretty smart, too."
Such a program taps into network effects. Experienced founders will know other experienced founders, often ones pure investors may not have access to.
The Dating Market: Thesis Overview
A packaged report of online dating aimed at understanding its rise. The report goes into topics such as source of partner introduction, supporting trends such as the rise in mobile phone usage, and ripple effects including an increase in the sale of makeup connected with a decrease in the sale of perfume and cologne.
"The social costs of rejecting a potential mate are now likewise effectively zero, making introductions within existing social groups (friends, family friends, church, etc.) structurally inferior propositions given significant social and reputational risk in the event of an adverse outcome"
The hedge fund Tyro Partners analyzes multiple factors in creating a thesis for the rise in online dating, tying the different points into a cohesive narrative - putting into words what people already know in their heads.
Thoughts
How To Make Friends 2.0
Nikhil Krishnan outlines the current state of making friends and what a future state can look like.
Current state:
Meeting - meet someone new in-person

Escalation - have repeat chance encounters to build familiarity

Maintenance - continued communication
Future state:
Meeting - meet people online first, and establish rapport from there

Escalation - bring people together through experiences and structured events, e.g. Escape Rooms, TED-talks with friends, etc.

Maintenance - establishing systems for repeated contact
"it's tough to go from "weekday" to "weekend" friends"
This is one interesting way of making friends: an organized, systematic approach. But things can happen from other ways too.
I see connection points in similarities in background, interests, and values (can be other factors too).
Hugging Past You
The author, Nick Hong, applies a five-step technique on self-love from Tim Ferris' book "Tribe of Mentors" onto himself using examples from his own life. The steps are:
Imagine a past version of yourself that you dislike.

Think of why you dislike that past version of yourself.

Think of how being that past version led you to who you are now.

Hug your past version of yourself. Tell them, "Thank you for being you. Without you, I could not be me." Send them love.

Find another past version of yourself that you find hard to love. Repeat until you love all past versions of yourself.
"Once you internalize that your journey creates your present, and that you should love all of that journey and yourself, it opens the doors to unconditional self-love"
---
Talk to me about Side Projects!
You as the reader know that writing is something I do on the side - what do you like to do during your free time? Could be for fun, for professional development, or for entrepreneurial pursuits. If you would like to talk, please get in touch.
---
Find Me
That's it for this issue!
Thoughts and feedback? Comment on this post, email me, or dm on Twitter.
Not subscribed yet? Sign up here.
-Leo